Our logo was collaboratively developed by the STRIDE team during the final CRE-IQI meeting in October 2019, where groups put on their creative caps to develop initial logo concepts.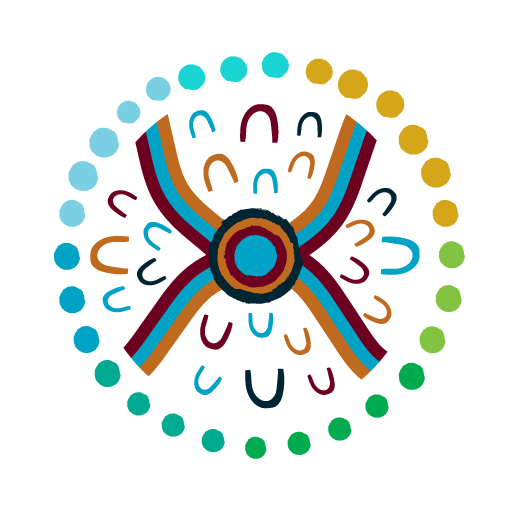 The logo was inspired by all six designs, and heavily influenced by the team including Associate Professor Megan Williams (Wiradjuri woman, researcher and STRIDE Chief Investigator).  The concepts were then massaged into digital designs by Emma Walke (Bundjalung woman, artist and STRIDE Associate Investigator), and fine-tuned by Talah Laurie (Gumbaynggirr & Yaegl woman, designer and LEAP Project Officer).   
The centre circle represents the healthcare equity aim of STRIDE.  It also represents Aboriginal and Torres Strait Islander values of responsibility, respect and reciprocity.
The four inner stream lines represent the four research programs: 1) community involvement; 2) health system quality improvement capacity; 3) social and emotional wellbeing; and 4) health promotion and prevention.  They also represent the Indigenous elements of: 1) relationality; 2) leadership; 3) knowledge and sovereignty; and 4) 'All teach, all learn' capacity strengthening process that is continuous and reflective.
The knowledge streams move through community, understanding context and priorities for better health and wellbeing.  The knowledge flows into iterative cycles of continuous learning, resulting in collaborative, valuable, impactful research (represented by the outer dots).
The U-shaped figures represent our mob sitting together.  We are all on this journey together.